Bellingham, WA | Camp 7
RFK Loves Kids
Royal Family KIDS creates positive, life-changing moments for innocent children age 6-11 who have been victims of neglect, abuse and abandonment.
Volunteer Application
Parents/Families
Fundraisers
RFK Golf Tourney
August 21st, 2023
• Bellingham Golf & Country Club
• 18 Hole Scramble with Cart
• 12:30pm Shotgun Start
• Lite Lunch, Dinner, Raffle and Awards
• 100% of Proceeds Benefiting RFK
Interested in joining our event sponsors?
Register
Teams of four players
Individuals welcome, you will be placed on a team.
———
Thank you for your interest in the tournament. Registration is FULL. Email us to be put on a waiting list: rfkgolftournament@gmail.com.
May 5th, 2023  |  6-9am
Drive By Giving
Our annual community fundraiser where businesses and individuals come together to donate toward this years camp.
Helpful info and resources
Parents & Families
Camper Application
Royal Family KIDS Camps are week-long overnight summer camps for children ages 6-11 who have been or currently are in foster care. Our Bellingham Royal Family chapter serves children in Whatcom County.
> APPLY HERE/ MAIL IN PDF
> APPLY HERE / ONLINE FORM
Hope Restored
Hope Restored is about caring for kids from hard places and our main focus is supporting caregivers/parents. We host a one day Trust Based Relational Intervention (TBRI) training called, Hope for the Journey, for foster/adoptive parents and those that work with children.
> MORE INFO HERE
Teen Reach Adventure Camp
TRAC provides hope through camping programs designed especially for youth age 12-15. Boys Camp July 14-16, 2023 and Girls Camp July 21-23, 2023.
> EMAIL INTEREST
The Resilient Project
We exist to equip and empower youth in under-resourced communities so that they can rise above their circumstances and reach their highest potential. Building Resilience. Changing the Narrative. Breaking the Cycle of Poverty.
> WEBSITE
What Drives Us
Our Mission
RFK exists to create life-changing moments for children ages 6-11 who have been or are currently in the foster system. We give them a week long summer camp where we create moments that matter and treat them royally!
.  .  .  .  .
At RFKC our campers receive one-on-one attention from safe, caring adults modeling a non-violent, positive way of life as an alternative to many of the negative, abusive situations which children of abuse and neglect have faced. For one week, instead of operating in survival mode, they can just be kids. With tea parties, crafts, woodworking, birthday parties, music, dress up and much more, these kids can feel "normal" and once again dream, believe and find new hope for their future.
Our Bellingham camp has been serving kids in the Whatcom County area since 1993. Each summer we bless up to 68 campers and are staffed completely by volunteers who give a week of their summer to invest in the lives of these children. This camp is provided at no cost to the child, the foster care family or the State and is purely funded through private donations and grants. Donations and gifts are tax-deductible, as allowed by law.
Get Involved
We are excited for this year's camp! If you are interested in volunteering during the week of camp, either full-time or part-time, please fill out the application. Note the training days on the right in the Upcoming Events area.
Watch our SAY YES! Video to hear more.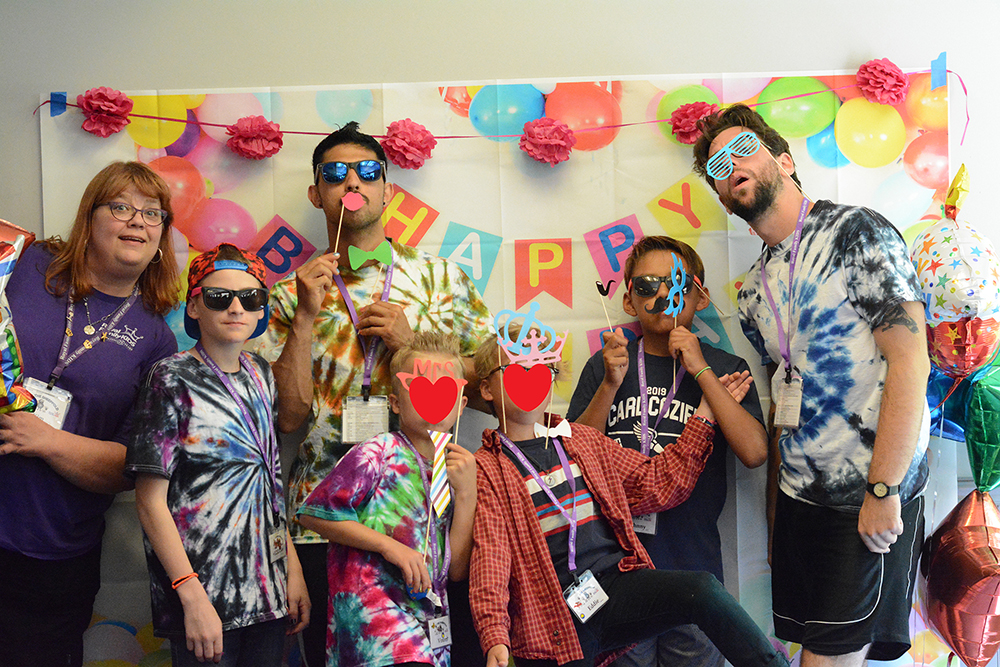 May 5 - Annual Drive-By-Giving
6-9am. Soft Rock KAFE 104.1 and Cruisin Coffee team up to raise money for RFK. Donate at any Crusin Coffee location in Whatcom County.
New Staff Training - May 19-20 or June 23-24
23rd 6-9pm, at Hillcrest Church, snacks provided.
24th 9am-4pm, at The Firs Conference Center, snacks/lunch provided.
Returning Staff Training - May 20 or June 24
24th 9am-4pm, at The Firs Conference Center, snacks and lunch provided.
June 25 - All staff at the firs
5pm, at the Firs for an all staff meeting 
August 21 - RFK Golf Tournament
12:30pm 18 Hole Scramble with a shotgun start. Includes: cart, lite lunch, dinner, raffle and awards.
Counselors
The primary role of a counselor is to care for their campers as they walk alongside them through the daily activities of camp. This role requires energy, patience, love, and a willingness to look beyond your own needs in order to wholeheartedly serve the children in your care. Counselors arrive at camp the day before the campers to prepare the cabins and then they are there to welcome the campers as they arrive. Each Counselor is responsible for 2 campers in order to provide the very best care for each camper.
• Training is mandatory

Support Staff
Different areas involved with being on staff: include Nurse, Licensed Counselor/Social Worker, Drama, Music, Woodshop, Activity Centers, Breakfast Club and more. While the Counselors spend most of their time with their 2 assigned campers, staff members have the opportunity to interact with more of the kids. Support Staff can be full-time or part-time, you have the option to stay at camp the full week or come during the day when you are available.
• Training is mandatory
Night Relief
A team of adults that come in Tuesday-Thursday evenings 8-10:30pm and spend time with 2 campers while the Counselors have their break. They are encouraged to come earlier in the evening to prepare and spend time with the campers. This is a great, meaningful time spent with them as they wind down from their day and get ready for bed.
• Training is mandatory
Part-Time Volunteer
Volunteer a few hours each day.
• Morning Volunteer
Breakfast Club: Tuesday-Thursday 8:30-10:30am
This is a time to help campers with lessons, activities, and music.
• Afternoon Volunteer
Monday-Thursday 2-5pm
Help with activity stations such as: Woodworking, Royal Spa, Tie Dye, Dress Up, Craft Centers and Games.
• Some training required
Birthday Party/Special Events
Volunteer a few hours.
Monday  |  5:30-8pm
• Block Party: Carnival-like atmosphere with various activities, you would run a specific game.
Wednesday  |  11:30am-1pm
• Everybody's Birthday Party: A birthday party celebrating each camper. You would help with set-up, gifts and clean-up. *some pre-day planning will be needed.
June 30th  |  1-4pm
• Welcome Home Dinner: Help set-up, serve staff and clean up.
June 25th  |  2-6pm
• Camp Set-Up: Help unload the truck, at The Firs Conference Center, and set up activity centers and decorate camp.
• Volunteers must be at least 16 years of age. No training needed.
Other ways to Volunteer
Help "Behind the Scenes" outside of the week of camp.
• Make no-sew fleece blankets: pick up kits at Hillcrest Church when available.
• Assemble the camper bags
• Host a Cruisin Coffee location 6-9am for Drive By Giving on May 6th
• Help with the Golf Tournament on August 21st
Learn More
We are a part of
the international organization
For the Children
Same Heart, Big Impact
We are For The Children and here's why
For 30+ years, volunteers, churches, businesses, local municipal partners and Royal Family Kids staff have dedicated their time, talent and treasures to help transform the lives of vulnerable children across the US and world.
With over 250 Royal Family KIDS camps and mentoring programs around the world, the breadth of our work has naturally evolved to include direct trauma intervention, advocacy, fostering, adoption, support to parents, and other crucial wraparound services.
Our focus continues to be on building a world free of family-induced childhood trauma by promoting physical, emotional and spiritual healing for child victims of neglect, abuse, and abandonment through intervention programs, education and advocacy. 
As we focus on the systemic issues facing children around the globe, we remain motivated by the teaching and example of Jesus in caring for "the least of these".