Here are a few ways you can get involved at Hillcrest Church.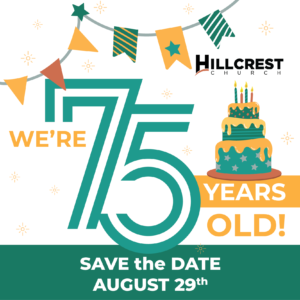 SAVE the DATE!
Make time to join us on August 29th as we celebrate what God has done in our 75 years!
More details to come.
Come cheer on the Hillcrest softball team as they play in the Whatcom County Church Softball League. Games will be in Lynden.
5/24 @ 6:30pm Hillcrest and Rome Community, field 2
6/7 @ 8:40 Hillcrest and Grace, field 3
6/14 @ 6:30 Hillcrest and New Song, field 4
6 /21 @ 6:30 Hillcrest and Sunrise, field 2

Psalm 34:8 reads, "taste and see that the Lord is good; blessed is the one who takes refuge in him." Or as written in The Passion translation, "drink deeply of the pleasures of this God." Experience for yourself the joyous mercies He gives to all who turn to hide themselves in Him, as we gather to worship through guided, creative prayer and active contemplation. There is no outside preparation. Simply imagine a banquet table being laid out for you, a guest with no hostess gift required or requested. Just come.
Just be. Just taste and see.
LEADER: Kelli Jensen
DAY/TIME: 1st and 3rd Tuesday evenings 7:30-9pm
WHERE: at Hillcrest
LIFESTAGE: Any Adult
GENDER MIX: Women
Contact Info: caleb.kelli.jensen@gmail.com

Come gather with other women in a safe way to study the book of Psalms. Our time together is spent studying, sharing and praying. We will be meeting Tuesday evenings over Zoom and in person at Hillcrest, 7:30-9pm, beginning February 9th.
LEADER: Kristi Knipp
DAY/TIME: 2nd and 4th Tuesday evenings 7:30-9pm
WHERE: on Zoom and at Hillcrest
LIFESTAGE: Any Adult
GENDER MIX: Women
Contact Info: kristiknipp@gmail.com